Varieties Details: Goldrush
In recent years, Goldrush use in Eastern Canada has been increasing. It is a long, white fleshed potato suitable for table use as mashed, in stews or for baking. It is also used to a certain extent in processing. It is resistant to hollow heart and to scab. In the field it expresses disease symptoms well and is easy to rogue. It is also a high yielder on medium to heavy fertile soils.
Origin & Breeding:
Bred by North Dakota State University from (ND450-3Russ x Lemhi Russet) in Fargo, North Dakota (USA). Released in 1992.
Year Registered in Canada:
1999
Registration Number:
4905
Plants:
medium to large, upright growth; stems have purple pigmentation at the base, medium size waved wings and no prominent nodes.
Leaves:
green to dark green, open, moderately pubescent; midribs and petioles are light green, sparsely pigmented and slightly pubescent.
Terminal leaflets: elliptical; tip acuminate; base lobed and asymmetrical.
Primary leaflets: three to four pairs, ovate, tip acuminate; asymmetrical base.
Flowers:
few, large, off-white to light lavender, orange anthers; long, strait and pubescent calix.
Tubers:
oblong to long; dark brown russetted skin; eyes are numerous, shallow and well distributed; they may show a reddish blush after storage; very white flesh.
Sprouts:
white with purple tips.
Description:
High yielding variety; tubers are usually smooth and quite uniform with very few external or internal defects. Very good resistance to hollow heart. Tuber specific gravity is medium. Good storability; medium dormancy period.
Utilization:
excellent for baking and boiling; very good for french frying if processed from harvest or short term storage. Its very white flesh, texture and excellent flavour make it particularly suitable for home and restaurant.
Chief Markets:
fresh market, count carton trade, processing.
Moderately Resistant:
verticillium wilt, silver scurf.
Good Resistant:
common scab.
Susceptible:
to most potato virus, early blight, late blight, soft rot, fusarium dry rot.
Remark:
Leaf roll expression: light rolling of bottom leaves only; infected plants have normal size and colour.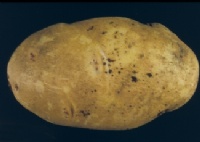 Tuber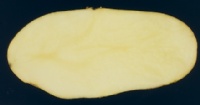 Cut Tuber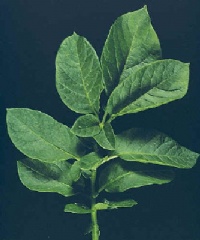 Leaf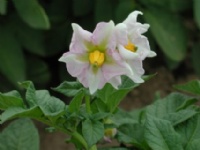 Flower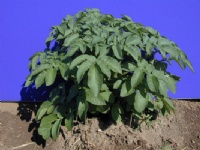 Plant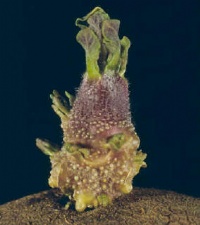 Sprout